With ever growing politicization of social media thanks to foul plays by Political parties and their IT cells, it is now no surprise that a lobby belongs to a particular ideology tried as many tricks as possible to gain political mileage be it through unfair means.
However, the fact check startups such as Alt News, Boom, Facto Check has always came forward to test the claims on logical analysis supplied with acceptable evidences.
Just to mention, Rahul Gandhi has also been targeted with fake news to strategically tear down the image by supplies such claims to people at large employing various platforms and social media is one among such.
To brush up the memory, we have compiled the popular cases of such attempts on Rahul Gandhi for you to develop the perspective against the claims and take a better precautions on believing upon such news henceforth.
Claim
A Facebook posts showing pictures of the former Congress president interacting with migrant workers are being shared with captions claiming that the party enlisted 'fake migrants' for a photo-op with Gandhi found to be false.
The post can be viewed below and its archived version can be accessed here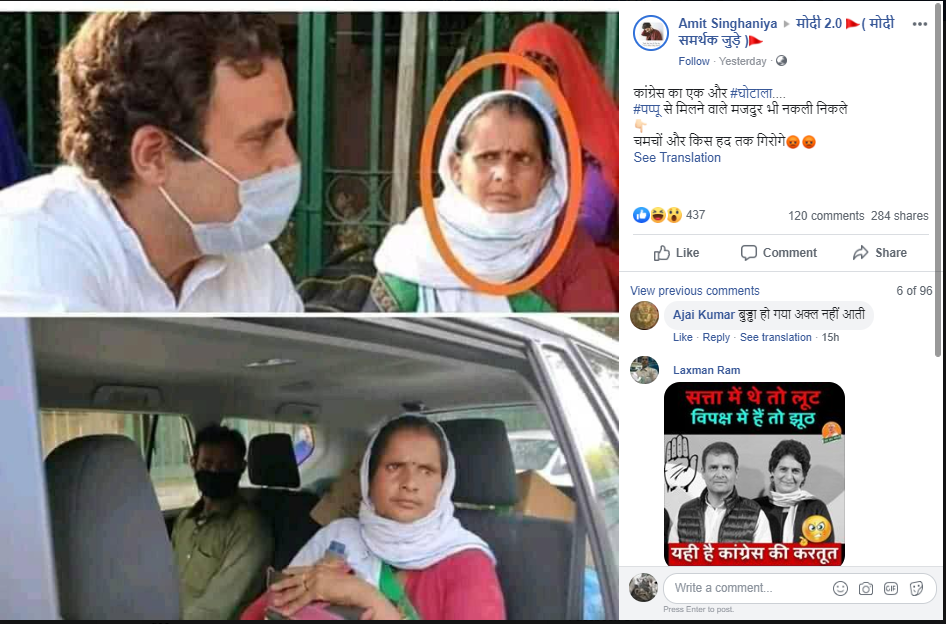 Truth
Wire agency ANI had also tweeted a set of four pictures of migrants sitting in cars waiting to be taken to their homes. The woman in the viral post can also be seen in the second picture tweeted by ANI.
Claim
A Facebook that goes by the name 'Pushpendra Kulshrestha Fans Club' posted a 6-second-long video clip showing Rahul Gandhi delivering a speech and making a mistake, with a caption in Hindi that closely translates to, "He's 'high' again."
In the video, Gandhi could be seen using the Hindi word that means 'nation' where he should have used the Hindi word that means 'world'. The video has a logo saying 'Political Keeda' on the right-top corner.
Truth
The six-second-video clip is a trimmed version of a longer video. This trimmed clip stops where Gandhi is seen making the mistake. Gandhi corrects the mistake within a second and that portion is not shown.
The full video from where the clip was trimmed to target Rahul Gandhi
Claim
A tweet portrayed Rahul Gandhi suggesting odd-even method to reopen schools.
A screenshot of a tweet supposedly put out by Congress MP Rahul Gandhi is doing the rounds on social media. "Schools and colleges should reopen from 1st June on odd/even basis. Odd days teachers will come and even days, students will come," reads the tweet.
It suggests that Gandhi proposed the odd-even method to reopen schools while jokingly suggesting that teachers and students should come to school on different days.
Truth
With a keyword search on Twitter, Alt News found that no such tweet has been put out by Rahul Gandhi.
Other evidence is misalignment of the text and profile picture. In the comparison posted below, a screenshot of a recent tweet by Gandhi (top) has been juxtaposed with a screenshot of the morphed tweet (bottom).
Claim
The fake content in November 2018 quoted Congress President Rahul Gandhi, saying his ancestors were Muslims, and that he pretended to be a Hindu to get votes alleged to ran on ABP News.
The fake quotes were: "My ancestors were Muslims and I am a Muslim", "We should give Kashmir to Pakistan", "As soon as we come to power, we will lend Rs 5,000 crore to Pak for 50 years without interest", and "Even I pretended to be a Hindu for vote bank".
Truth
ABP News then clarified that some pictures regarding Congress President Rahul Gandhi that were being circulated on social media with the television channel's template were fake.
Claim
In April last year a Newspaper Clip Claiming Rahul Gandhi Called Baniyas 'Thieves' went viral.
Truth
The fact that the newspaper's name doesn't find a mention anywhere in the report makes the claim all the more fishy.
a similar newspaper clipping with the same statement attributed to Bharatiya Janta Party President Amit Shah was shared on Facebook on December 10, 2018.
The post with the exact same statement attributed to Shah had gone viral in December 2018.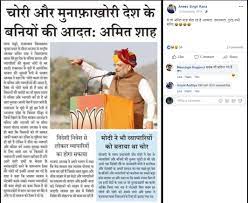 Claim
An screenshot is getting viral over social media in which through his twitter handle Rahul Gandhi appeared to be using 'Cricketer' for Late Sushant Singh Rajput.
Karuna Gopal (Spl Invitee BJP State Exec Committee) tweeted the same but deleted later.
Truth
The Original Tweet from Rahul Gandhi's official twitter handle establishes its falsehood.